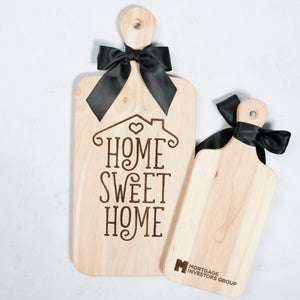 Home Sweet Home Paddle Board
Regular price $31.00 Sale
8" x 18" wood paddle cutting board featuring MIG's Home Sweet Home Design on the front and MIG logo on the back. Customize the back further by adding your name and contact information.

Use the board as is for decoration or as a cutting board by oiling the board with food grade mineral oil (butcher block oil). (Please note, due to the naturally occurring nature of this wood, oiling the board will add a slightly yellow tinge.)
DELIVERY, SHIPPING, & BULK QUANTITY OPTIONS:
FREE local delivery is available to select MIG office locations by using the discount code at checkout that was emailed to the following qualifying office locations: Bearden, Downtown, Farragut, Home Office, Land Oak, Parkside, Oak Ridge, Lenoir City, and Sevierville. Please use your office address as the shipping address at checkout when requesting local delivery.

*Shipping available to all other MIG offices and direct to gift recipients.*

To order bulk quantities or for rush orders, please email us at info@beamandbasket.com or call us at (423) 281-2938 to check availability and production timelines.