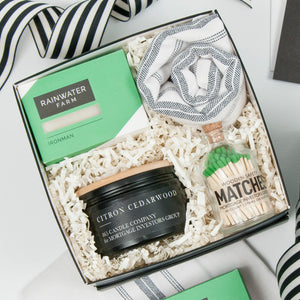 Time to Chill - MIG
Regular price $48.00 Sale
Perfect for housewarming gifts, client gifts, or a welcome to the neighborhood gift.
FEATURES:
Packaged in our black 6" x 6" paper box with ivory crinkle fill and finished with a black and white stripe ribbon.
CANDLE - 865 Candle Company 4 oz. matte black with bamboo lid cotton-wick soy candle. 865 Candle Company candles are hand-poured in Knoxville, TN and are made with premium soy wax, cotton wicks, and phthalate free scents.

SAFETY MATCHES - Beam and Basket strike-on-bottle safety matches in green (approx. 80 matches). Hand assembled in Lenoir City, TN.

TEA TOWEL - 100% cotton farmhouse stripe gray and white 15" x 25" low lint, sturdy weave tea towel with hanging loop.
SOAP - Rainwater Farm Ironman bar soap. Spearmint oil is a natural body coolant, refreshing and revitalizing—and it joins forces with coconut oil to be antibacterial and anti-fungal. Perfect for Ironmen and Ironwomen alike! Handcrafted with pure, non-toxic, all-natural, and nourishing ingredients by the Souder family in Maryville, TN.
Typically ships in 1-3 days. Bulk pricing available.
*Please note, due to the handmade nature of this item, slight variations in size, color, and shape are likely to occur.
DELIVERY, SHIPPING, & BULK QUANTITY OPTIONS:
FREE local delivery is available to select MIG office locations. Gift typically ships in 1-3 days. Bulk quantity orders typically take 1-2 weeks for delivery depending on quantity ordered and current inventory levels.

FREE delivery locations include: Bearden, Downtown, Farragut, Home Office, Land Oak, Parkside, Oak Ridge, Lenoir City, Sevierville (check availability).
Please indicate which office you would like delivery to in the "Add a Note" section in your cart and select "Delivery to Select Mortgage Investors Group Offices" as your shipping method during checkout.
To order bulk quantities or for rush orders, please email us at info@beamandbasket.com or call us at (423) 281-2938 to check availability and production timelines.
Shipping available to all other MIG offices and gift recipients.